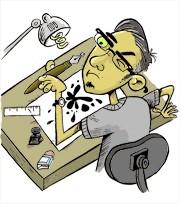 Lemon
""Everyone Should Have a Motto""
San Francisco, Ηνωμένες Πολιτείες της Αμερικής
χρήστης από June 25, 2008
www.rabbitsagainstmagic.c...
76 585
views
11
σχόλια
5
favored
Η γαλαρία του/της Lemon
(10)


επαγγελματικά
όνομα
J. Lemon
ημερομηνία γέννησης
1965-04-13
Προσωπικές πληροφορίες


Originally from Europe, Jonathan Lemon gained a degree in Visual and Performing Arts at the University of Brighton in England before embarking on a career as an artist, cartoonist, stand up comedian and musician. He began working extensively on record and CD cover designs and music posters as well as cartoons for various music publications in the 80s. He moved to San Francisco in 1992 and created several character animations for best selling software including "Stinky & Dinky", "Dr. Doodles" and "Double Doozy". Between 1997 and 2002, he drew the comic strip "Bigshot". He has also contributed work to Yowza Comic, Poot, Puppy Love, ZigZag and Film World magazine. His political cartoons have appeared in The Boston Globe, San Francisco Examiner, Guardian (UK), San Francisco Bay Guardian and numerous other English and Spanish-language newspapers, magazines and websites including the Commonwealth Club of California. He has won several awards for his art including two Zap Awards and a South East Arts Award. His work has been exhibited in galleries in San Francisco, London and Tokyo and been used to advertise everything from surfboard wax to electric bicycles. He has also lived in Cuba and Central America where he illustrated an anti-litter campaign, made cartoon maps for the Honduran Tourism Institute and did illustrations for United Nations' Global Fund HIV/AIDS programs. He currently the editorial cartoonist for HybridCars.com. Rabbits Against Magic is his latest comic strip project. He is married to his wonderful wife Julia, drives a fire-engine red Toyota Echo and has no cats.