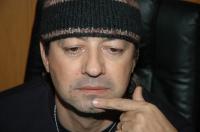 SAI
"I am what U are!"
Targu Jiu, Ρουμανία
χρήστης από October 03, 2008
www.caricaturasai.ro
466 074
views
157
σχόλια
14
favored
επαγγελματικά
όνομα
AURELIAN IULIUS SUTA - SAI
ημερομηνία γέννησης
1965-09-22
Προσωπικές πληροφορίες


Romanian cartoonist illustrator novel, self-taught. I do not agree to advertisers listing awards. Drawing comic is for me a way of life, a personal language that communicate with people near me or from other geographical areas. I like humor without words. Thank you for your patience!
γνωριμίες του/της SAI
(58)