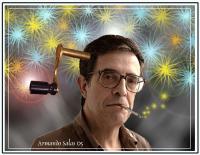 Salas
"Cartoonist"
Ferrol, Ισπανία
χρήστης από February 08, 2008
www.artwanted.com/salas
703 580
views
134
σχόλια
15
favored
επαγγελματικά
όνομα
Armando Salas
ημερομηνία γέννησης
1946-01-30
εκπαίδευση
Bachelor
τεχνηκή
pen,ink,watercolor,oil,acrylic,gouache
εργαλεία/μέσα
Pencil, pen,brush,computer
επιρροές
Not definite
αγαπημένος χαρακτήρας/ήρωας
Wizard of Id
Προσωπικές πληροφορίες
Fine artist and award winning cartoonist. Over 40.000 artworks published during 40 years. His cartoons and comic strips are at Cartoon Art Museum, Museo do Humor de Fene, Ticonderoga Cartoon Museum and Bulgarian museum Dom Na Humora i Satirata. --- International prize Curuxa de Honra 2005 Award given by Museo do Humor de Fene (Spain). --- Author of poster-tribute that presided over the international homage to Russian journalist Anna Politkovskaya at Notre Dame (Paris, January 2007). --- His name is listed in The World Encyclopedia of Cartoons, Atlas Español de la Cultura Popular, Enciclopedia Galega Universal, Diccionario de uso de la Historieta en España, Lambiek Comiclopedia and Wikipedia. --- Solo or collective exhibitions: Fene, Ferrol, Ticonderoga, San Francisco, Detroit, Hannover, Berlin, Gabrovo, Warsaw and Moscow.