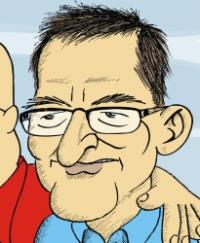 doumas
"To be able to name things is man's greatest prerogative."
Athens, Ελλάδα
χρήστης από January 17, 2010
www.doumas.gr
21 182
views
0
σχόλια
0
favored
Η γαλαρία του/της doumas
(3)
Favorites
Casualties

Danes of the ...

Receives
επαγγελματικά
όνομα
Panayotis Doumas
ημερομηνία γέννησης
1971-08-19
εκπαίδευση
Albert Ludwigs Universität Freiburg
τεχνηκή
Editorial Cartoongs
εργαλεία/μέσα
Pen, Illustrator, Corel Draw
επιρροές
Stuttmann, Tomicek
Προσωπικές πληροφορίες


Officially, I am a business man. However, for the last three years I publish weekly editorial cartoons and articles in the greek weekly newspaper "Eleftheros Kosmos" (Free World). I also cooperate with the daily newspaper "Eleftheri Ora" (Free Time), the PATRIA Magazine and the german weekly newspaper "Junge Freiheit". I am looking forward to do this professionally.