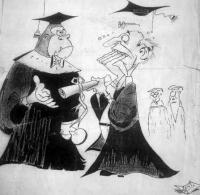 mindpad
"Ink,Paper & Pencil(not necessarily in that order)"
Bangalore, Ινδία
χρήστης από December 09, 2011
mindlesslampoons.blogspot...
145 811
views
11
σχόλια
3
favored
επαγγελματικά
όνομα
Ravi
ημερομηνία γέννησης
1974-10-25
εκπαίδευση
MBA
τεχνηκή
Elementary
εργαλεία/μέσα
Ink,Paper & Pencil
επιρροές
Mort Drucker,Ajit Ninan,R K Lakshman
Προσωπικές πληροφορίες


Well….. if I have to blow into the proverbial trumpet,it would be total cacophony !!!Lets just say, if this page could say '…something about nothing and nothing about something' and focus on the 'mindless lampooning I indulge in, it would serve this page well.At least, i could duck the brickbats. Me….am six inches short of a six footer, a hulk quartered on a cheese plate and then forced refuge in one corner of a cold store. 'Cryptic nonsense' right ??? well…. that is precisely what my blog is all about too,amongst the many mindless indulgences, the one that describes me in close approximation !!!!