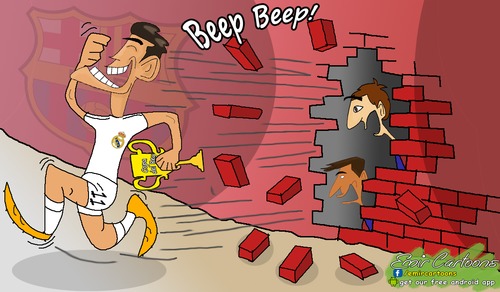 1385
Bale sppeds past Barcelona with

1
Applause

του/της
emir cartoons
on May 03, 2014
That was quite a show.. what else would you expect for the El Classico anyway. Barcelona came into this game expecting it to be a season saver as they've already been knocked out from the Champions League by Atletico Madrid, and the same team is getting a bit of a distance in the league too.

On the other side there was Real Madrid without Cristiano Ronaldo to help them out as he treats his injury. But never mind that, said Gareth Bale, as he took the ball at a 1:1 score and ran across the whole field to score a winning goal and secure a trophy for Real Madrid. A goal which might be as remembered as that one by Maradona when he did something similar.
μεταφράσεις
(1)
προσθήκη
Κροατικά του/της emir cartoons
'Finale El Clasica u Kupu Kralja je pripalo Real Madridu koji je savladao Barcelonu konačnim rezultatom 2-1. Najzaslužniji za pobjedu Reala u nedostatku igranja Ronalda bio je Bale, koji je pri rezultatu 1-1 uzeo loptu na 30 metara od svog gola i "100 miliona" na sat proletio pored igrača Barcelone i pogodio za pobjedu.'
Περισσότερα από αυτόν τον χρήστη emir cartoons

Croatia go home.

Liverpool had...

Who will win ...