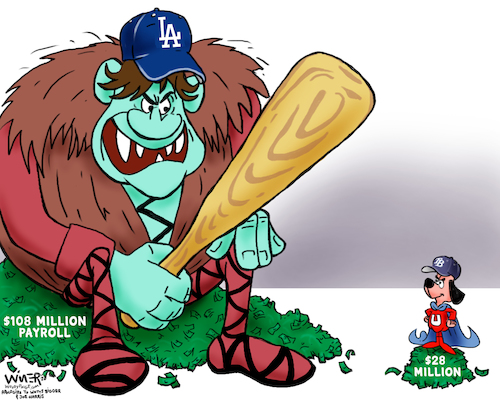 Baseball Underdog
#369547 / viewed 1146 times
Cartoon for WoodyPaige.com, a leading online platform for all things sports related in the United States and international.

A baseball underdog story. For you international folks, bear with me as I explain a very American institution: pro baseball. Also, the art that drives this cartoon is drawn from an old US cartoon called UnderDog - who beat up on big uglies like the goon shown here. And it's a very heavily used term here for the little guy who upsets the favorite.

A few months ago, the thought of a World Series was a 50-50 proposition in the midst of the Covid-19 pandemic, but here we are now with the two best teams by record in Major League Baseball.

The Tampa Bay Rays face the Los Angeles Dodgers in a great match-up. Baseball has always relied on drama to draw broader interest, so it's nice to see a true "Underdog" scenario. The Dodgers bring the second highest payroll (adjusted for the shortened season) at $108 million vs $28 million (3rd lowest in MLB) for the Rays.

By most metrics, that disparity in money invested in talent is reflected in what we will see on the field. The Dodgers ripped through the competition in the playoffs until they were able to scrape by Atlanta. Most talking heads give them the nod with simply too much high powered depth.

But never count out the underdog. The fact the little guy knocks the big guy off his perch with relative regularity is why so many of us love our sports.
Αθλητικά » Ball Sports Other Sports Championships
underdogbaseballunitedstatesmlblosangelesdodgerstampabayraysworldseriessportschampionships