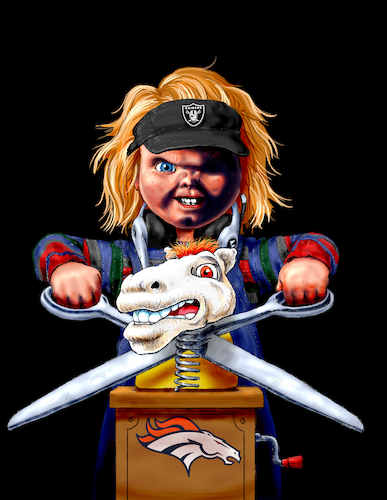 2684
Chucky Gruden Fright Football

2
Applause

του/της
karlwimer
on February 09, 2018
My latest illustration/toon in Mile High Sports Magazine highlighting the fears of many a Denver Bronco fan. New Oakland Raider coach Jon Gruden bears an uncanny resemblance to the Chucky doll from the cheesy/scary Child's Play movies, and now he is one more threat to the how the Denver Broncos will do after one of their worst seasons in years. Not looking to please Raider/Chucky Nation, but it's clear the Broncos are going to have one more reason to raise their game to a higher level.
sportsamericanfootballchuckyjongrudenoaklandraidersdenverbroncos
Περισσότερα από αυτόν τον χρήστη karlwimer

Adaptive Spir...

Economy Carving

Hick Parachute