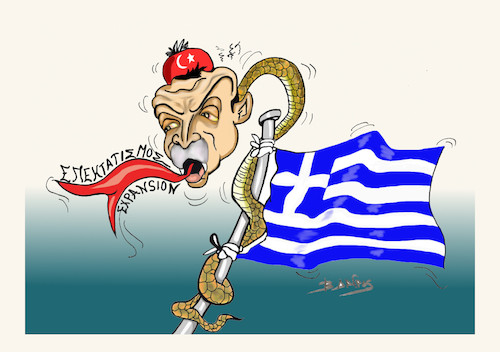 498
ERNTOGAN END GREECE

2
Applause

του/της
vasilis dagres
on March 02, 2021
Erdogan has declared war on Greece, which European leaders ostentatiously ignore. Greece should withdraw from the so-called exploratory dialogue imposed by the Europeans and the political leadership of the Americans, because it has nothing to negotiate. Greece should immediately extend to the Aegean Sea to 12 nautical miles. Greece must immediately and vigorously prevent Turkish naval exercise in the Aegean because the country's sovereign rights are being violated and if the neoliberal prime minister of the country does not understand this, the solution will be given by the Greek people, as it has been given on other occasions. Of course, the neo-liberal prime minister of the country knows how to talk about vaccination certificates, which is reminiscent of other dark times of humanity.
It is true that some leaders talk Erdogan , strengthening the power of his power, trapping the Turkish people.
Πολιτικά » National/Domestic International Military & Security Terrorism Economy & Money Conflicts & War Parties Democracy Energy
Περισσότερα από αυτόν τον χρήστη vasilis dagres

JEAN CLAUDE J...

KIM JONG UN N...

pensions