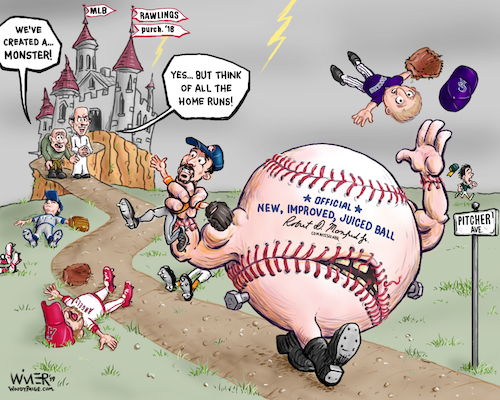 772
Frankenstein Baseball

2
Applause

του/της
karlwimer
on September 30, 2019
Cartoon for woodypaige.com (check it out for the whole story). Seems that all kinds of home run records were broken this year in Major League Baseball, coinciding with last year's purchase of Rawlings by the league. The ball is different according to everyone you ask including the league, and the carnage in the world of pitching has been extraordinary. Many reliable, outstanding pitchers took a beating this year, and several lost their jobs. The ball has been tweaked so that it has less drag, which means it carries a lot farther, which means many more home runs. The idea was most likely to make the game more interesting, so that more people watch, but attendance was down again this past season. At an interesting cost.
Αθλητικά » Ball Sports Other Sports
Περισσότερα από αυτόν τον χρήστη karlwimer

Vic Fangio To...

Santa Running

Painful Bronc...