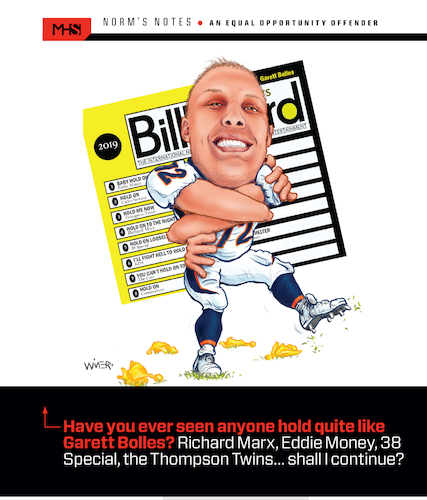 282
Garett Bolles NFL Hold Party

1
Applause

του/της
karlwimer
on October 11, 2019
Illustration for Mile High Sports Magazine. A previous first round draft pick, Bronco lineman Garett Bolles has been a major disappointment had a hideous start to the new NFL season, capped by a game featuring 4 holds a few weeks ago. Thus the idea for Garett throwing his personal "hold party", with a playlist of his own making. Then guess what? He cleaned up his act & is playing much better...always the risk for drawing a cartoon 3 weeks prior to a magazine release. Hoping the big man continues to keep his hands to himself!
nflbollesdenverbroncosoffensivelinemansportsholdingpenaltybillboard
Περισσότερα από αυτόν τον χρήστη karlwimer

Uncle Sam Pep...

Santa Ascent

Caption Conte...