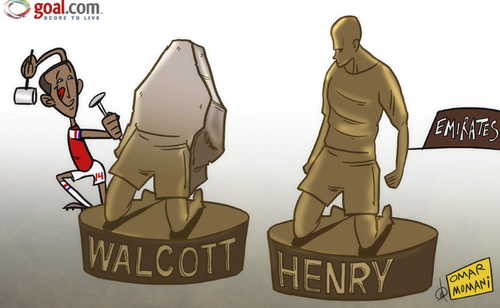 Walcott looks to carve out
#179350 / viewed 2887 times
It may be a bold ambition but Theo Walcott has revealed his aspiration to replicate the success Thierry Henry brought to Arsenal.

The England international maintains that his time as a winger is now up and that Arsene Wenger should try him in the advanced position which enabled Henry to go down in history as one of the Premier League's greatest players.

"I love Arsenal and I love playing with my teammates and hopefully something can be sorted and I can get back in that team and get a chance to play up front," said Walcott.

"I definitely want to play up front. I think I've learned my trade as a winger now.

"I remember when Thierry Henry joined at 22 and the legend he was. Hopefully I can be the legend he was as well in that up front position."

Henry netted 228 goals in 377 appearances for Arsenal. No pressure, Theo.
Περισσότερα από αυτόν τον χρήστη omomani