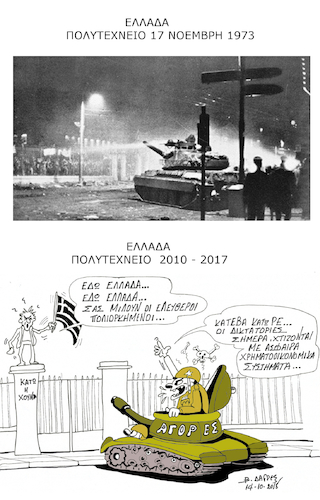 1186
dictatorship 1973

2
Applause

του/της
vasilis dagres
on November 17, 2017
In Greece, as of November 17, 1973, the dictatorship supported by the Americans invaded the army in the polytechnic school, where the students were, with many people.


The man with the flag shouts
This is Greece... This is Greece...
They are besieging us, but we will be talking freely


The tanks officer shouts
I got down a man ...
Today, dictatorships are created with inexpensive financial systems.
Πολιτικά » National/Domestic International Finances Economy & Money Other Politicians Democracy
Περισσότερα από αυτόν τον χρήστη vasilis dagres

Erdogan DICTA...
FRENCE ELECTION

DAVOS 2018