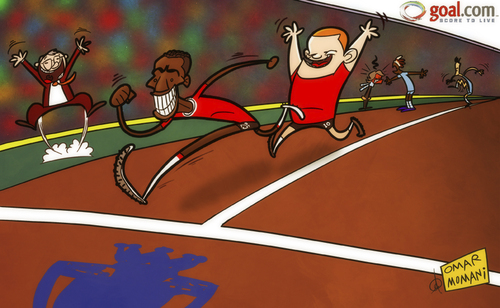 3540
sprint for the finish

3
Applause

του/της
omomani
on April 04, 2012
Momentum swung the way of Sir Alex Ferguson as his Manchester United side earned a 2-0 win over a relegation-embroiled Blackburn Rovers, moving them a step closer to his 13th Premier League title.

They left it late, but after Antonio Valencia broke the deadlock in the 81st minute, Ashley Young added a second in a performance which Ferguson stated 'typfied the history' of Manchester United. The Red Devils stretched their lead at the summit of the league to five points as their arch-rivals Manchester City slipped up at home to Sunderland.

Since losing their first game of the calendar year to Newcastle United, Ferguson has led the reigning Premier League champions to 31 points from a possible 33, putting them in the lead of the race for the title.
Αθλητικά » Soccer/Football Championships
agueroantoniovalenciabalotellienglandfergusonmanchestercityunitedmancinipremierleaguerooney
Περισσότερα από αυτόν τον χρήστη omomani