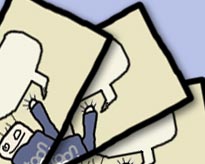 la crisi e la famiglia
in quetsa vignetta, è rappresentato un spaccato della crisi economica e sociale in atto in italia. si vede la moglie che sgrida il marito che per omertà nei confronti del sindacato , non vuol dire allagente che cosa accadarà veramente alla SCA( nota multinazionale della carta) in prossimità di chiusura, con conseguenti licenziamenti...che tristezza!.. il sindacato che ha paura della stampa libera per paura di possibili ritorsioni provenienti dall'alto P.S: IN ITALIA SIAMO PROPRIO MESSI MALE...
The gallery of this collection is empty.