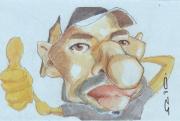 Draw me and i'll draw you.
Hi friends of ToonPool, this is an space for having kinds of deals. You can draw my toon and i will draw you, as soon as being possible. And also you can ask for photos by me or see my portfolio's that is published on this web.Thanks for all the artists of this wonderful blog.
The gallery of this collection is empty.