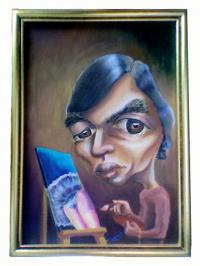 Fredy
Mexico, Μεξικό
χρήστης από December 07, 2009
www.myspace.com/fredycart...
228 851
views
57
σχόλια
5
favored
επαγγελματικά
όνομα
Fredy Rodríguez
ημερομηνία γέννησης
1977-02-03
Προσωπικές πληροφορίες


Mexican cartoonist and illustrator. I been shows my work in México, Spain and EU in magazines like "ELLE México", DJ Concept" "ESPN The Magazine". "Spacesquid", "Danza en Escena". I have some national exhibitions and tree international exhibitions in Spain of my individual collections of cartoons about the ballet history, called "LOS 32 FOUETTÉS ME DAN RISA" ( The 32 fouettés makes me laugh) that now belonges to the museum "Casa de la Danza" In Logroño, La Rioja, Spain.