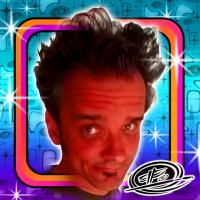 elle62
"make it with fun and passion"
berlin, Γερμανία
χρήστης από April 18, 2008
www.tooned-world.de
657 048
views
717
σχόλια
48
favored
επαγγελματικά
όνομα
andreas "elle" gillmeister
ημερομηνία γέννησης
1962-03-03
εκπαίδευση
media operator
τεχνηκή
sketchin', scribblin' & powertoolin'
εργαλεία/μέσα
pencil and wacom-board
επιρροές
then & now: franquin, mort drucker, coop, rockin' jelly bean, rick griffin, jim phillips,...and many more
αγαπημένος χαρακτήρας/ήρωας
too many to count..!
Προσωπικές πληροφορίες
my early schoolyears at the end of the 60s were characterized by famous tv-series like: the avengers, star trek or the persuaders. every sunday afternoon i used my pocketmoney for a visit at my local theatre to watch japans legendary godzilla movies. impressed by all this stuff i started to draw comics and storyboards for myself. artists like franquin, the father of spirou or mad-magazines mort drucker have been big idols to me for decades. today influenced by low-bro artists like coop or rockin'jelly bean, i'm trying to create my very own style of modern graphic designs. i worked for marketing agencies and sports magazines as illustrator since 1982. now i'm a freelancer in every kind of graphics, giving toonpool.com some support and will pushing my future projects forward... if someone like to see my t-shirt & poster-stuff, just check out my shop stuff here at toonpool.com or visit my webside...
γνωριμίες του/της elle62
(139)