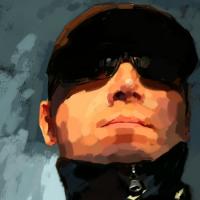 Martynas Juchnevicius
London, Ηνωμένο Βασίλειο
χρήστης από January 13, 2013
www.martoonz.blogspot.com
201 307
views
36
σχόλια
9
favored
επαγγελματικά
όνομα
Marty
εκπαίδευση
BA in Arts.
τεχνηκή
Traditional and digital
εργαλεία/μέσα
ball points, pencils, Adobe
επιρροές
Al Hirschfeld
Προσωπικές πληροφορίες
Since 1988 creating cartoons for newspapers, magazines and various cartoon exhibitions. Started as animator in the year of 1997 in Vilnius, Lithuania. I have over 15 years experience in classical 2d animation and illustration.