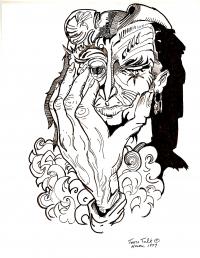 Toonstalk
"TOONSTALK WORLD"
Winnipeg, Καναδάς
χρήστης από November 17, 2009
www.toonstalk.blogspot.co...
1 548 932
views
134
σχόλια
14
favored
επαγγελματικά
όνομα
David Howell
ημερομηνία γέννησης
1957-01-10
εκπαίδευση
Community art courses and self taught
τεχνηκή
black and white, some color
εργαλεία/μέσα
pen and ink, pencil crayon,acrylic, collage
επιρροές
marvel,dc comics and daily strips
αγαπημένος χαρακτήρας/ήρωας
Too many to choose
Προσωπικές πληροφορίες
Pen and ink doodler with a love for cartooning, poster art, comic art, etc. Hope to use some color in newer work. Enough about me - see www.toonstalk.blogspot.com/ see http://toonstalk.wixsite.com/willy see https:www.instagram.com/toonstalk/ see https:www.facebook.com/Toonstalk-World-...
Portfolios

GEMSTONE LADIES (3)
γνωριμίες του/της Toonstalk
(34)