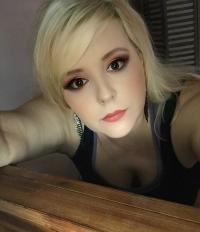 frostyhut
Tacoma, WA, Ηνωμένες Πολιτείες της Αμερικής
χρήστης από July 24, 2009
www.frostyqueendesign.com
692 971
views
1 080
σχόλια
100
favored
επαγγελματικά
όνομα
Kim (Maxine)
ημερομηνία γέννησης
0000-06-16
εκπαίδευση
I studied music and theater in college. I would like to take an art class someday!
εργαλεία/μέσα
Photoshop
επιρροές
Boody Rogers, Graham Ingels, Leonard Starr, Bud Handelsman, Max Beerbohm, Martin Rowson, Basil Wolverton, Ronald Searle, my toonpool friends
αγαπημένος χαρακτήρας/ήρωας
too many!
Προσωπικές πληροφορίες
My Toonpool collections are - Art of Composition, Kings and Queens, Painting Parodies, Retro, Romans, Therapy, and Vikings! My work has appeared in Classical Guitar Magazine and the Hamburger Abendblatt.
γνωριμίες του/της frostyhut
(197)