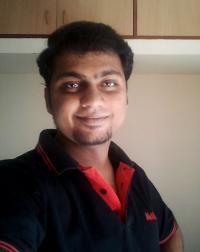 bharatkv
"Never Give up...!!"
Bangalore, Ινδία
χρήστης από October 05, 2009
bkv.brdcreation.com
80 323
views
19
σχόλια
0
favored
επαγγελματικά
όνομα
Bharat KV
ημερομηνία γέννησης
0000-10-05
εκπαίδευση
Engineering
τεχνηκή
Varied...love experimenting with Charcoal, Pastels, Poster colors, water colors, and ofcourse digital ones
επιρροές
Frank Miller, Ravi Varma, GnanaSekhar (My Guru)
αγαπημένος χαρακτήρας/ήρωας
Johnny Bravo, Mickey, Spidey
Προσωπικές πληροφορίες


I am Bharat KV, Interaction Designer by profession and an artist by passion, located in Bangalore, India. I work on web based applications (both static and interactive), print media & flash based animation. And sometimes I get the privilege of being away from the computer world, and that's when i get into my sketching world. Portraits and caricatures have been favourite. But I try out anything thats creative and challenges my brains...