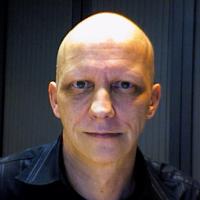 stip
"Born with a pencil"
Genk, Βέλγιο
χρήστης από August 06, 2008
www.facebook.com/stipartw...
532 818
views
106
σχόλια
23
favored
επαγγελματικά
όνομα
Stef Vanstiphout
ημερομηνία γέννησης
1957-10-15
εκπαίδευση
Animation and graphic design
τεχνηκή
Airbrush, marker, pen, brush, water color, photoshop
εργαλεία/μέσα
marker, airbrush, Adobe CS3
επιρροές
Robert Crumb, Mikhail Zlatkovsky, Stef Vanstiphout (1931-1995)
αγαπημένος χαρακτήρας/ήρωας
"Monument" by Mikhail Zlatkovsky
Προσωπικές πληροφορίες
Illustrator, cartoonist, comic strips, caricaturist, graphic designer, guitarist, composer, Mac fundamentalist. If there's one thing I love, it's cartoons that have an amount of drama in them. The best I ever saw was "Monument", an autobiographic cartoon by Mikhail Zlatkovsky (http://www.toonpool.com/artists/zlatkovsky), and it inspired me to make better cartoons. As my late uncle - a former cartoonist who carries the same name as I - used to say on the day of my birth: "He's born with a pencil". Well, I've been drawing ever since. Maybe, because my uncle was always full of wit, he was referring to my sex, but fact is, I am still drawing ... "I do not think humor is the opposite of reality, humor IS reality!"
γνωριμίες του/της stip
(83)