Enjoy the World
of Cartoons.
toonpool is world's largest community for cartoons and caricatures with 369 053 drawings of 3 424 artists from 120 countries.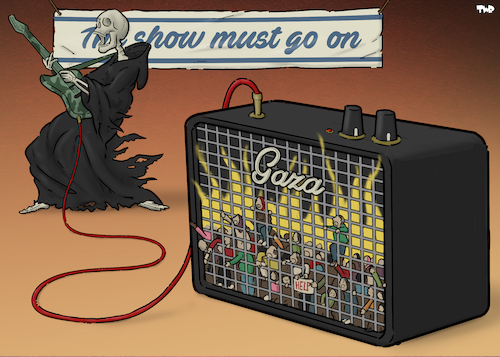 Daily Toon
συνδρομή

Your cartoon licensing agency
Editors' benefits:
convenient payment options
download high-res files without delay
access to international artworks
the latest political cartoons.
Discover ToonAgent today, choose between 33,000+ cartoons of 150 artists, download instantly.
Try ToonAgent for free!
also in
deutsch
&
español
The Funny World of Cartoons and Caricatures
toonpool is the best way to view cartoons and caricatures for free on the internet. More than 2500 artists from more than 120 countries present their 369053 drawings in this huge gallery.
This versatile collection offers images of every subject, from cartoons that reflect everyday life in society, to great stars and historical personages who have been immortalized in
beautiful portraits
by talented caricaturists. Those interested in political events can find
political cartoons
posted on toonpool even before they appear in the papers.
Love
is a favored subject in artworks as well, whether it be the first
kiss
or the
wedding
– nothing is off limits. And for those who consider all this too shallow, there are top-class
soccer cartoons
to be found as well as cartoons about the
financial crisis
that will make you laugh.
Draw cartoons yourself
Anyone can join toonpool! This is the place where the professional political cartoonist meets the hobby illustrator with funny drawings, and the newcomer who creates digital collages.
Registration
is free and only takes five minutes. It doesn't matter whether you upload a sketch or a tremendous oil painting – toonpool is open to any profound, meaningful, absurd or simply hilariously funny graphic representation. As an artist, you are given the option to create your own portfolios and order your images by subject, so that your visitors gain a nice insight into your work. On top of that, toonpool offers the use of
ShopOffice
, a service providing the distribution of t-shirts, posters and downloads with your artworks: open your own online shop and display your art in the Marketplace.
Participate in toonpool
Even if you think you can't draw, toonpool can serve you as a platform for creative exchange. Discuss the content of interesting cartoons by writing comments or translate the speech bubbles of foreign-language cartoons and thereby spread the spirit of toonpool. Get to know new creative friends from more than 150 countries and explore new unknown worlds of humor.
Hunter-gatherers also have the option to create
collections
: issue-specific compilations of caricatures and cartoons on toonpool. In addition, you can become a member of the more than 1,000 existing collections and expand them or join the discussion thread of the corresponding forums. The collections cover all kinds of topics: humorous
school cartoons
, atmospheric
Christmas cartoons
for any season, and cartoons about
computers and the internet
. The minute you have registered with toonpool, you can immediately
create a collection
.
Cartoon agency ToonAgent
Are you a picture editor of a magazine or newspaper, or a graphic artist in the publishing sector or any other media branch, looking for original illustrations or up-to-the-minute caricatures? The
cartoon picture agency ToonAgent
from the house of toonpool.com stores tens of thousands of drawings by professional artists and newcomers from all over the world on one single web site. As an approved customer, you can instantly download and use the printable version of a cartoon and enjoy our convenient payment options. Numerous dailies, magazines, publishing houses and advertising agencies already take advantage of the artwork selection featured on ToonAgent.
Download cartoons
The majority of artists on toonpool give you the chance to purchase their cartoons and illustrations as an instant image download. You can improve your web site, Facebook page, blog, or invitation card for the next birthday on your list with a cartoon. The art works are great for many other occasions. The download process is conceivably simple, and takes just a few minutes. Image use is subject to a few restrictions, and is unlimited in terms of time and region.